To love or not to love? A question that arises in the minds of employees when they find someone 'special', especially when it's someone in their office. 'Will I be forced to resign, if my relationship gets serious' 'What will my boss think?' 'Will my colleagues belittle me?' Are thoughts that would strike many employees in relationships. Irrespective of various hurdles, feelings supersede such premonition. A person has no control over their love hormones.
Did you know the average individual works for more than 85,365 hours throughout his lifetime? Yes, you read it right. In the considerable amount of time invested in work, it is not uncommon for people to find their loved ones at their place of work. Research conducted in 2012 by Randstad revealed that 70% of people in our country reported having workplace personal relationships. This whooping percentage sheds light on how prevalent workplace romance is.
However, it remains a pursuit that many organizations instruct their employees to refrain from such relationships because of the preconceived notions that it would affect the productivity of an individual, which would, in turn, significantly affect the organization. It is pertinent to note that workplace romance has both, pros and cons attached to an employee's overall work performance and their behaviour. A few studies suggest that workplace romance improves commitment towards the organization's well-being and performance, yet other literature argues that workplace romance brings with it disapproval from seniors and co-workers, hostile behaviour, lowered productivity, etc. So, here a question arises as to whether workplace romance should exist in an organization or not. Whether it is permitted or not, feelings related to belongingness to another individual are uncontrollable. Workplace romance is ignited because of the substantial amount of time employees spend together at the office, the lack of social life outside work, similarity in terms of goals and aspirations, and various other personal motives.
Falling in love is inevitable and an organization should be receptive to workplace romance. Human Resource Managers, Departmental Managers, and Team Leaders are the ones that can bring a significant change in the organizational culture.
A few changes are enlisted hereinbelow, which could be adopted by the manager(s) in an organization concerning Workplace Romance –
Orientation – During the onboarding, the Human Resource Managers should impart knowledge regarding workplace romance to eliminate future altercations. It is
essential in the nascent stages to build a satisfactory relationship with your employees, hence while you put forth the policy regarding workplace romance, be affable and considerate.
Increased interactions with the Manager– As a manager, it is extremely necessary to build a good rapport with your teammates. The more inviting, warm, and good listener you are, the more people will come out and reveal their relationship to you. A cohesive environment where your employees do not feel threatened, judged, and uncomfortable with your position in the organizational hierarchy would help in having such interactive sessions. Hence, try to establish a person-centered surrounding for a smooth flow of knowledge.
Establish a code of conduct/workplace romance policy – Once your employees have shared their news with you, congratulate them, however, lay down the rules and regulations of the organization regarding workplace romance. As a manager, you should realize that a couple might tend to experience a 'Honeymoon Phase'. The Rules and Regulations should categorically put forth the restrictions imposed upon couples. For instance, public display of affection would be prohibited,

personal disputes between the couples should not affect their work, etc. The key to maintaining a harmonious relationship with your employees is by being warm and courteous rather than intimidating.
Consensual? – A team leader should be receptive to hearing complaints from the aggrieved employee to understand the grievances faced by such a person. To achieve the same, the leader should organize a formal meeting with the concerned employee and seek information concerning such incidents. Due to the rising cases of workplace harassment, make sure that you build an atmosphere of trust, honesty, and safety. The Parliament to ensure that women feel safe at their workplace enacted an Act titled 'The Sexual Harassment of Women at Workplace (Prevention, Prohibition and Redressal) Act, 2013'.
Abstain from being impartial – As humans, we tend to identify ourselves more with some individuals and less with others. Favoritism, biases, and anger, should not be a factor while managing workplace romances. All individuals are to be treated at parity. This will make your employees gain faith and trust in you for being an unprejudiced leader.
Formulate a 'Bounce-back' plan – The behaviour of an individual is affected by their mental state. Time, circumstances, and personality all affect their relationships. Hence, some relationships last forever and some do not. As a result of the change in their relationship status, individuals tend to change their organizations, which ultimately affects the organization negatively. To retain your employees, it is advised that a plan is formulated, which would protect the interest of the organization. This plan should comprise necessary steps including change in departments or projects or offices. The Manager should advise their employees to seek counseling, being offered by the organization, which in turn, would help the employees as well as the organization.
Given the above, achieving organizational goals is of utmost importance, however, a manager that cultivates harmonious relationships will certainly improve their productivity in the organization, despite the employee being in a relationship.
---
REFERENCES
Biggs, D., Matthewman, L., and Fultz, C. (2012). Romantic relationships in organisational settings. Gend. Manag. 27, 271–285. doi: 10.1108/17542411211244803
Burke, R. J. (2010). "Psychologically intimate, romantic and sexually intimate relationships in the workplace," in Risky Business: Psychological, Physical and Financial Costs of High Risk Behaviour in Organizations, eds R. J. Burke and C. L. Cooper (Farnham: Gower), 47–64.
Dhar, S. (2013, May 26). Love at work: Relationships in the workplace common in India. The Economic Times. https://economictimes.indiatimes.com/love-at-work-relationships-in the-workplace-common-in-india/articleshow/20270939.cms
Dillard, J. P., and Broetzmann, S. M. (1989). Romantic relationships at work: perceived changes in job-related behaviours as a function of participant's motive, partner's motive and gender. J. Appl. Soc. Psychol. 19, 93–110. doi: 10.1111/j.1559-1816.1989.tb00047.x
Pierce, C. A., and Aguinis, H. (2003). Romantic relationships in organizations: a test of a model of formation and impact factors. Manag. Res. 1, 161–169. doi: 10.1108/15365430380000524
Williams, C. L., Guiffre, P. A., and Dellinger, K. (1999). Sexuality in the workplace: organisational control, sexual harassment, and the pursuit of pleasure. Annu. Rev. Sociol. 25, 73–93. doi: 10.1146/annurev.soc.25.1.73
Wright, T. A., Cropanzano, R., and Bonett, D. G. (2007). The moderating role of employee positive well-being on the relation between job satisfaction and job performance. J. Occup. Health Psychol. 12, 93–104. doi: 10.1037/1076-8998.12.2.93
---
About the Author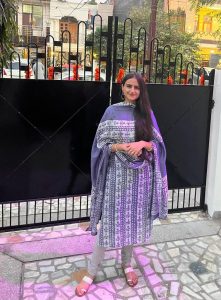 Natasha Malhotra is the Co-Founder & a Counseling Psychologist of सत्तva: Counseling & Wellbeing Centre. She is a registered international member of the American Psychological Association and a lifetime member of the Counselors Council of India. She holds a postgraduate degree in Clinical Psychology and possesses tremendous experience working with the adult population facing varied difficulties such as stress, work-life balance, and relationship discord among others. Her company सत्तva: Counseling and Wellbeing center provides group wellness sessions to schools and organizations and individual counselling sessions to adolescents and adults. Natasha is a professional dancer who trained at Shiamak Davar Institute of Performing Arts for over a decade and she's performed with various Bollywood Celebrities. She believes that the key to a worthwhile life is by enjoying the little moments and following your passion!