Certifications
As a Certifying Body, IIBP does not conduct any certification programs or enters into any kind of commercial activity related to the design, delivery or administration of the program. This professional distance is required to stay unbiased while providing standards and issuing accreditations to those programs that follow those standards.
IIBP does the following related to certifications in the domain of business psychology:
It does surveys of international best practices and issues guidelines for the industry.
It prescribes a standard course curriculum for certification programs.
It audits the programs conducted by agencies and provides accreditation to those programs which adhere to its guidelines and course curriculum.
It issues the certificates and maintains the register of qualified professionals.
IIBP Certifications provide the certificate holder International Credibility as they awarded certificates after the participant has demonstrated the required knowledge, skills and competence in the area. For organizations, getting services from a certified professional means that the person has passed the strict qualification criteria set by IIBP and his/her competence is reviewed by an expert committee consisting of industry leaders.
Currently, IIBP provides model course curriculum and certification on 2 areas of business psychology-
Psychometric Testing and Assessments (Level-1 and Level-2)
Assessment and Development Centres (Level-1, Level-2 and Level-3)
IIBP has adapted the certification process and course curriculum prescribed by NAOP (National Academy of Psychology) and EFPA (European Federation of Psychologist Associations) with regard to Level-1 and Level-2 Qualification in Psychometric Testing and Assessments.
An IIBP certificate holder in Occupational Testing and Assessment Level-1 and 2 is not only acceptable in India as a qualified professional but also acceptable in most countries where regulations regarding the practice of psychometric testing are in place.
As an accreditation body, IIBP does not conduct any program but provides the model course curriculum and standards; and accredits those agencies who adhere to the prescribed standards and have their methodology reviewed by IIBP.
Assessment Center Certification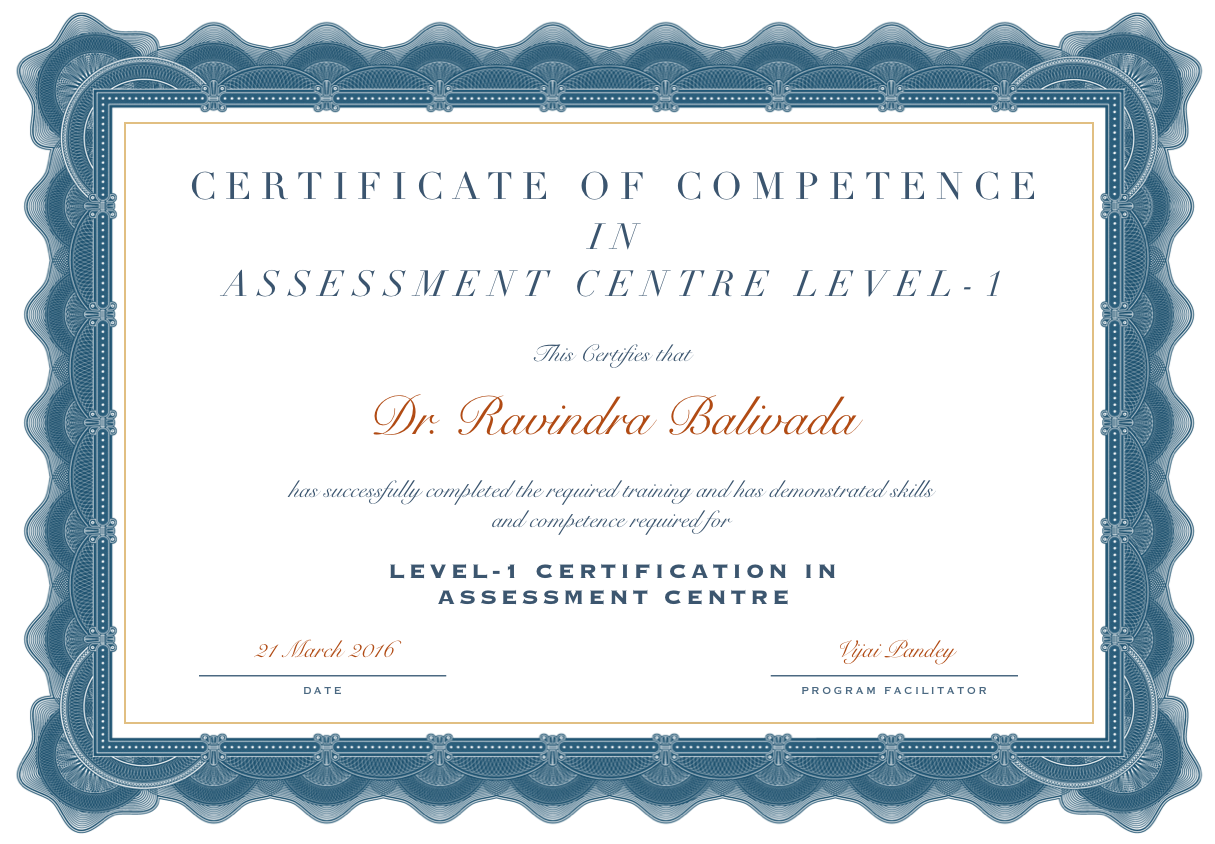 IIBP has extensively studied the International Standards in Design, Deployment and Evaluation of Assessment Centres and has proposed a model course curriculum and standards for 3 levels of certifications in Assessment and Development Centres. These levels are:
Level-1 ( Certified Assessor)
Level-2 ( Certified Assessment and Development Centre Facilitator)
Level-3 ( Certified Assessment and Development Centre Designer )