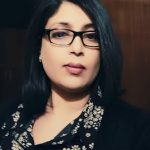 A practicing clinical psychologist with 20 years of clinical experience, Jyoti Gupta has worked with people from all walks of life to achieve mindfulness. With vast experience in, clinical and community interventions, assessment, diagnostic process, guidance and counselling, psychometric testing.
As a therapist in private practice, She specializes in helping couples improve their relationships, individuals recover from depression, anxiety, postpartum depression/anxiety, loss and grief, divorce and separation, low self-worth, social anxiety, and many other painful transitions of living.
She has been practicing Mindfulness and creating guided programs for the last few years in Chandigarh, for teachers, corporate, bureaucrats, parents, students, and special parents. She has also been practicing and imparting Mindfulness-based psychotherapy as a tool for stress reduction.
She has been conducting workshop on autism, learning disability, intellectual disability, ADHD, behavioral and emotional problems, workshops on parenting, career counseling, motivation and personality development, sensitization of teachers towards classroom teaching, and psychological problems among kids and adults.
Select a date to start booking an appointment with Jyoti Gupta!
Enter the coupon code MHI2020 at the payment page to get a 100% discount on your first session.