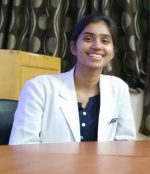 With a BA in Applied Psychology from the University of Allahabad and a diploma in Counselling and psychotherapy from B.H.U, Garima Dwivedi is interested in Counselling Psychology, Positive Psychology, and Clinical Psychology.
She has previously worked as an assistant clinical psychologist for 11 months, 15 days at SAMVEDNA Neuropsychological and rehabilitation center in Varanasi, and as an intern at Defense institute of psychological research for 4 months.
Click below to book an appointment with her!