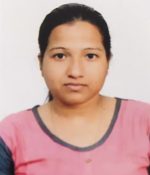 Debjani Kar is trained in premier mental health institutes as a clinical psychologist (RCI registered) in India and currently working as an Assistant Professor in Dept. of Clinical Psychology, Central Institute of Psychiatry (Ranchi).
A research enthusiast in the areas of cognitive neuroscience, she has over 5 years of experience in the fields of clinical psychology and research. She has an interest in the interplay of I/O and clinical psychology, working towards making a better and healthier workplace for all!
Select a date and time below to confirm your appointment!