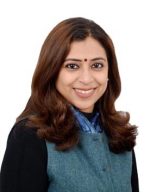 Anveeksha is the Chief Consultant and founder at "The Coffee Conversations" a one of its kind Therapeutic Interaction center. At Coffeconversations, we bring emotional wellness to you to a place of your choice. The emphasis on non-traditional ways of therapy like Art Therapy, Expressive Arts, Narrative Therapy, and many more.
Anveeksha holds double Masters' degrees in MBA (OB & HR), M.A. Psychology (Clinical), and is a Diploma in Art Therapy. She is also a certified POSH trainer and a resource with the ministry of Woman and Child Development.
In her previous stints, she worked with MNC's like British Airways & Air Canada. Over the years she has developed a keen understanding & expertise on the issues faced by Organizations & its stakeholders, most importantly its employees. She actively engages with Corporates wherein she undertakes Counselling/training sessions to increase the productivity & happiness quotient in our personal & professional lives. She also counsels individuals especially in the areas of relationships, confidence building, and much more. Apart from this, she is also a Leadership Coach especially for Women Leaders, wherein she lays special emphasis on Women's Mental Health.
Anveeksha also runs an NGO for Women and Children by the name Sakhiri. Recently, her work was appreciated and she was bestowed with the "Women Leadership Award" as the Leading Mental and Social Health consultant in Delhi NCR for 2020
Click below to book an appointment with her!