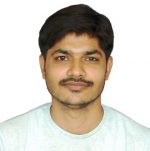 Abhishek is a counseling psychologist with 8 years of experience in mental health practice, gained marked experience, and specialized in numerous psychiatric assessments, and has led many psychotherapeutic interventions.
He is currently pursuing a Ph.D. in Psychology where specified my research towards psycho-therapeutic intervention in psycho-social rehabilitation programs for clients suffering from schizophrenia. 
His experience includes psychological assessments and counseling of individuals of all age groups and various mental health conditions ranging from general psychological problems to psychiatric conditions.
He has more than 7 years' experience of work in dealing with acute and chronic psychiatric illnesses such as Schizophrenia, Mood Disorders, Anxiety Disorders, Dissociative Disorders, somatoform Disorders, Conversion disorders, Dementia, alcohol, and substance-related disorders, etc.
His training in therapeutic intervention majorly focused on Cognitive Behaviour Therapy, Rational Emotive Behaviour Therapy, Client-Centered Therapy, Psychoanalysis, Motivational Enhancement Therapy, Behaviour Modification techniques, Cognitive Retraining, Social Skills Training, Group Therapy, Family Therapy, and Insight-oriented therapies, etc.
Select a time below and confirm an appointment with him!