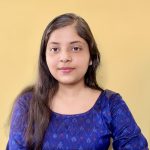 Abhipsa Satpathy is a psychological counselor with experience in counseling school and college students, adults in distress related to anxiety, depression, relationship issues, issues of identity and self-esteem, and career planning. She has worked with children with special needs. She can help you with work-related stress along with the above. She believes in the Right to Life with Dignity and uses an eclectic approach in her practices.
She is enthusiastic about new and creative approaches to counseling including art therapy and narrative practices. Based out of Odisha, she provides counseling over the phone and the internet at present. She can understand and speak English, Hindi, and Odia.
Book an appointment with her now!